A Blog About Current Issues in White Collar Defense
◂ back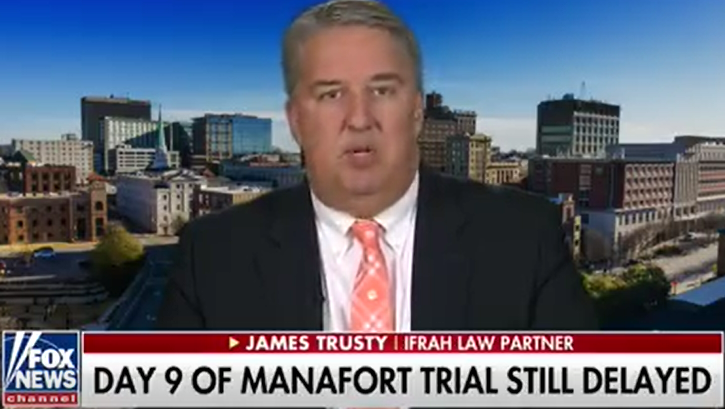 September 24, 2018
National Media Turns to Jim Trusty for Authoritative Opinions on the Country's Most Important Investigations and Prosecutions
Ifrah Law partner Jim Trusty has become a staple in the national news lately: he is frequently asked to comment on the many investigations and prosecutions currently going on which involve former and current officials and operatives at the highest levels of government. With over 28 years of experience as a federal prosecutor with the Department of Justice and deep knowledge of white collar criminal law, Jim offers TV audiences both the seasoned perspective of a government insider and clear cut, objective analysis that help viewers fully understand the context and complexities of these historic proceedings.
Commentators turn to Jim to clarify the legal issues in many high profile cases.
Jim has also provided commentary for Fox News on
As a former prosecutor and now defense attorney who has litigated a wide variety of white collar charges, Jim ably puts these dramatic circumstances into context for viewers unacquainted with the inner workings of justice. For his current clients, this understanding of how prosecutors try cases makes Jim highly valuable for developing effective responses to white collar charges ranging from cybersecurity and computer fraud, to money laundering and asset forfeiture.
For seven years, Jim served in the DOJ's Criminal Division, where he was ultimately responsible for investigating and prosecuting regional, national and international cases. In addition to running the RICO review unit, he also was in charge of establishing and promoting policies focused on immigration reform, firearms trafficking, proposed Congressional testimony for DOJ officials and Internet gambling. Prior to his work at DOJ, Jim acted as Assistant U.S. Attorney in Greenbelt, Maryland, where he investigated and prosecuted white collar and other criminal cases, including the D.C. area Sniper investigation. Jim has been awarded numerous honors over the course of his career including the Attorney General's Distinguished Service Award, Federal Prosecutor of the Year, Community Prosecuting Award and the Child Abuse Protection Award, to name only a few.
You can follow Jim on Twitter @TrustyLawyer.
1717 Pennsylvania Ave, N.W.,Suite 650
Washington
DC
20006
(202) 838-4735