A Blog About Online Gaming and Entertainment Regulations
◂ back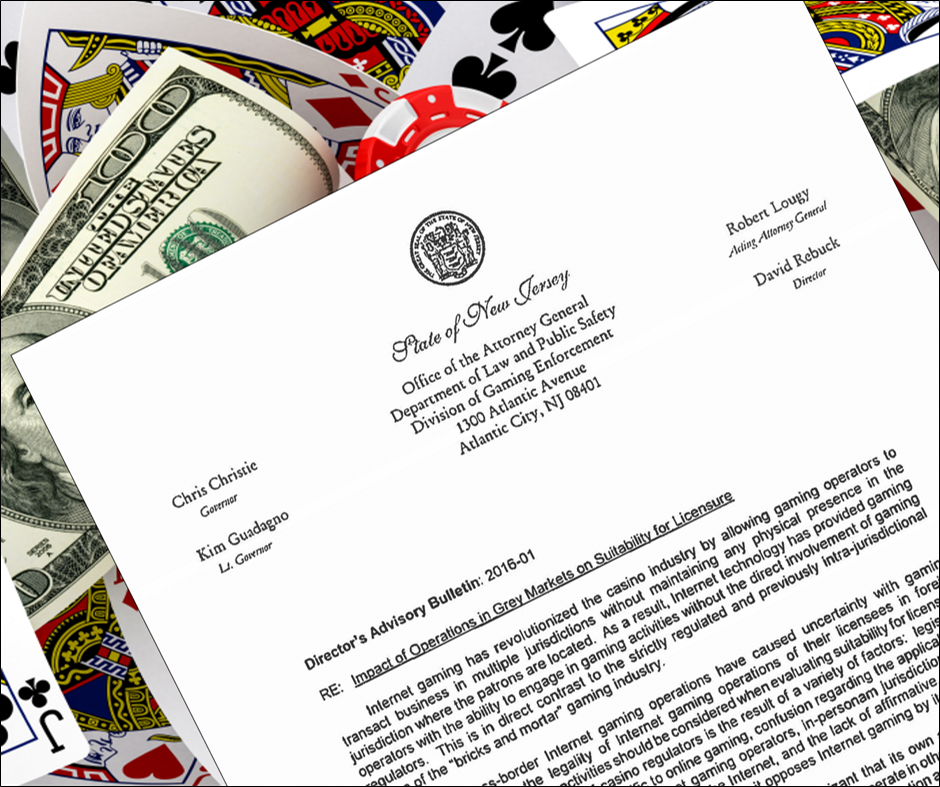 April 19, 2016
New Jersey Issues Bulletin Clarifying Licensure Standards for Internet Gaming
Today, the New Jersey DGE issued a "Director's Advisory Bulletin" clarifying how it would apply its suitability rules to gaming license applicants who conduct internet gaming in other jurisdictions.  If you offer a game that is illegal in any jurisdiction, the DGE will consider you unsuitable and bar you from the New Jersey market.  The new Bulletin clarified what New Jersey considers illegal:  If you operate in a "grey market" jurisdiction where internet gaming laws are ambiguous – or no affirmative enforcement actions have been taken – you're probably good to go where NJ licensure is concerned.  But if you operate in a jurisdiction where the relevant authorities have taken affirmative action to prevent internet gaming activity, it will be considered a "black market" and you may be ineligible for a New Jersey license.  Make sure you know what a black market is and stay out!
As a prerequisite to any gaming license determination, the DGE must determine whether an applicant is "suitable" for licensure under the New Jersey Casino Control Act.  Internet gaming companies operating illegally in other jurisdictions will be unable to establish the "good character, honesty, and integrity required for a New Jersey gaming license.  Operating a legal internet gaming business in another jurisdiction presumably poses no obstacle to suitability.  Today's Bulletin was a result of the DGE's struggle with how to determine "suitability" when internet gaming companies operate in jurisdictions – as is often the case – where the legality of online gaming is "unclear or inconsistent."  The DGE deemed such jurisdictions "grey markets."  Recognizing that it was in no position to opine on the laws of these grey market jurisdictions, the DGE opted not to adopt a standard that would have imposed its own views on the laws or actions (or inaction) of other sovereign jurisdictions.  For practical purposes, this means that New Jersey has adopted a suitability standard of "if it's not prohibited there, you are permitted here."
Instead, the DGE will deem an applicant unsuitable based on its operations in other jurisdictions only if the applicant has conducted gaming operations in a "black market" jurisdiction: one in which the online gaming is clearly illegal or where the jurisdiction has "taken affirmative, concrete action to enforce" its anti-gaming law.  The DGE listed civil and criminal complaints and the issuance of formal cease and desist letters as examples of such affirmative actions.  Where a jurisdiction has refrained from taking any affirmative steps to prevent an internet gaming market to develop, the DGE will consider that jurisdiction to be a "grey market."
The Bulletin does, however, leave substantial ambiguity concerning the hot area of daily fantasy sports ("DFS").  Some states, like Alabama and New York, have issued cease and desist letters or taken other actions to prevent the operation of DFS sites in their states.  New Jersey's Bulletin clarifies that those states should now be considered "black markets" and operation of DFS in those states could cause an applicant to be found unsuitable by the DGE.  The attorney generals of several other states have issued opinions declaring that DFS constitutes illegal gambling.  But unlike Alabama and New York, many of those jurisdictions have taken no affirmative action to enforce any law against DFS operators.  It remains unclear how the DGE will address those jurisdictions.  It could, however, consider the operation of a DFS business in those states as a prohibited "black market" activity.
For internet gaming companies, many of which operate both internationally and in multiple U.S. states, the DGE's newly announced standard provides welcome clarity to companies looking to do business in the Garden State.  Companies currently operating in New Jersey, or hoping to do so in the future, should work with their counsel to ensure that they are not operating in any "black market" jurisdiction.
1717 Pennsylvania Ave, N.W.,Suite 650
Washington
DC
20006
(202) 838-4735