A Blog About Online Gaming and Entertainment Regulations
◂ back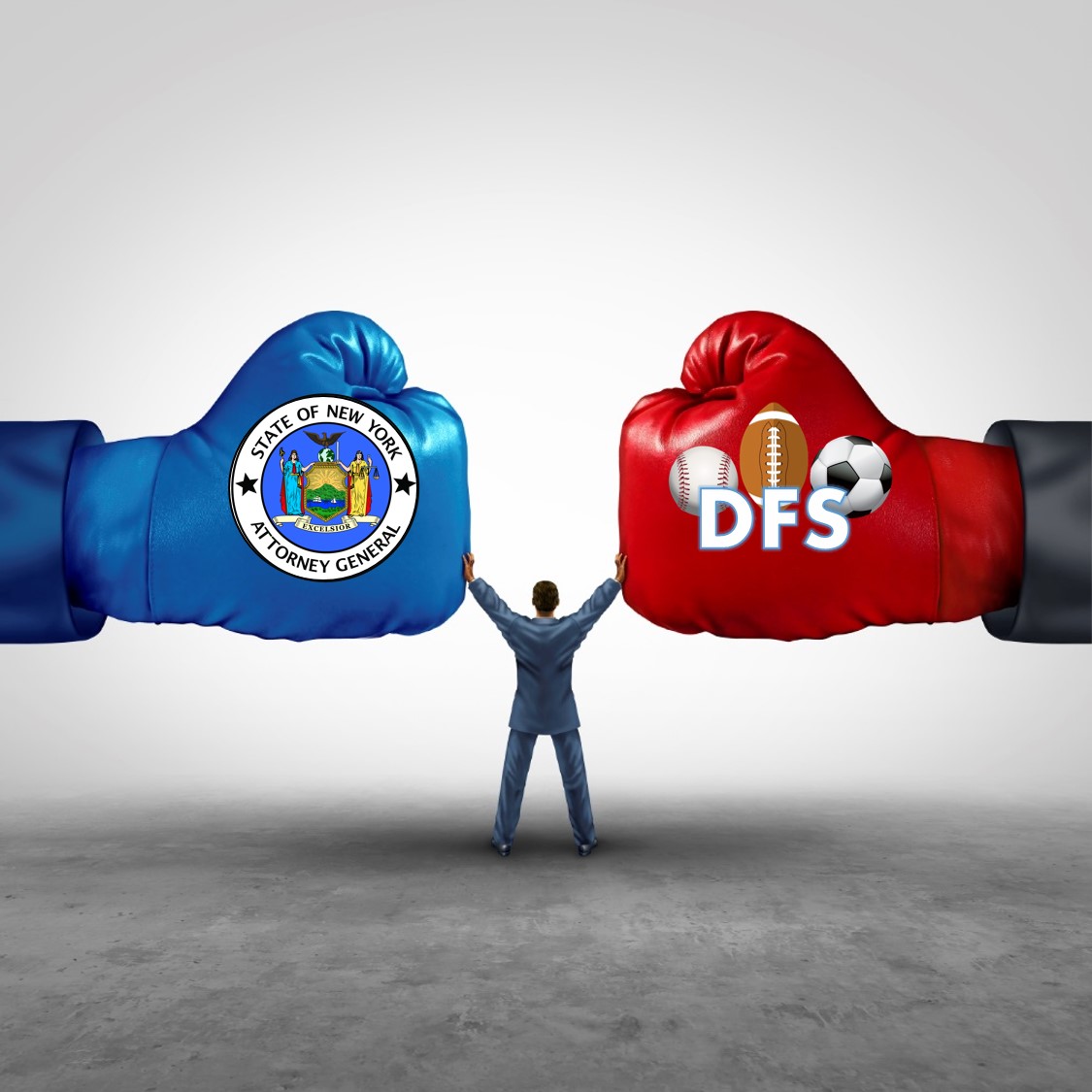 March 22, 2016
New York DFS: Sites Agree To Armistice, Not A Settlement
The New York Attorney General, FanDuel, and Draft Kings announced yesterday that a settlement had been reached in the litigation over the future of daily fantasy sports ("DFS") in New York.  Effective immediately, FanDuel and DraftKings will discontinue operations in New York and pay out existing balances to New Yorkers.  This sounds like a major victory for the AG, and a surprising capitulation by the DFS sites after an appellate court allowed them to keep operating in New York while the court cases were in progress. But a closer study of the DraftKings and FanDuel agreements plainly shows that this is far from a definitive settlement.
The agreement would be better described as an armistice. No claims will be dismissed and no resolution has been agreed upon.  Everyone has agreed to postpone action on the pending appeals until at least this summer, when the filings will be due for the Appellate Division's September session, and suspend all litigation in the trial court until the appeals are resolved.
The DFS sites, in other words, have agreed to suspend operations in New York, and now appear to be turning their attention to the New York State legislature as the agreements revolve entirely on whether there is a change in state law expressly legalizing DFS before June 30, 2016.  If so, all parties agree not to proceed further and neither DFS site would incur any penalties or pay restitution on the majority of the AG's claims.  This would be a big win for DFS in New York—not only would it be able to operate legally in the state, but DraftKings and FanDuel would be off the hook for any claims about its previously questionable status.
But there's plenty in this agreement that is unfavorable to the sites.  First, the matter of false advertising—central to the AG's prosecution—is almost entirely unaffected, although it bears little relevance to the permissibility of DFS in general. More interestingly, if the legislature does not expressly legalize DFS, the sites have agreed not to appeal a loss to the New York Court of Appeals, the state's highest court.  This is a curious concession that leaves the sites vulnerable to an adverse decision from an intermediate appellate court in Manhattan.  For its part, the AG has made no such concessions. If the Appellate Division rules in the sites' favor, it would send the case back to the trial court for further proceedings without committing either the AG or the sites to any specific course of action.
Because nothing has changed about the DFS litigation itself, there is good reason to wonder why this "settlement" happened at all.  The best-case scenario for the DFS sites would be that the AG, faced with conflicting signals from state courts and New Yorkers alike, has agreed to collaborate on finding a legislative solution that would allow DFS to exist in New York subject to state approval and a method of oversight that allays some of his concerns.  A less encouraging possibility is that DraftKings and FanDuel are losing the stomach for a protracted fight in their biggest market and that, if it is not possible to restore DFS to New York quickly, the sites have decided it would be more prudent to cut their losses and focus on other markets.
In the meantime, New Yorkers likely will be without DFS through this summer.  If they don't want it to stay that way indefinitely, they should do as we will and turn their attention to the New York State legislature—where S 6793 in the State Senate is the most promising bill—and where we can expect to see a strong push to finalize a legislative solution before the end of June. So serious a deadline has potent ramifications on the future of DFS in New York and perhaps the nation.  As such, we hope it will encourage action even from those who have viewed DFS as a low-priority issue until now.
1717 Pennsylvania Ave, N.W.,Suite 650
Washington
DC
20006
(202) 838-4735